Have you ever turned in an essay assignment only to spot typos and grammatical errors? It can be annoying, but many grammar checkers now exist with free and paid editions.
I've rounded up the 15 best grammar checkers for 2023. Keep reading as I discuss their free and paid features, pricing, and my review of each online tool. 
These grammar solutions are perfect for students, professional writers, PC users, and mobile app lovers. You also have options for integrations with browsers, Google Docs, and Word.
Top 3 Grammar Checkers
ProWritingAid
Starts at $7.42 per month
25 Detailed Writing Reports
In-app Suggestions
Contextual Thesaurus
60/Year Plagiarism Checks
Offers a One-Time Fee of $399
Top Choice
Grammarly
Starts at $12 per month
Online Spelling, Grammar, and Punctuation Checker
Plagiarism Checker
Tone Detector
Style Guide
The Business Version is $15 Per Month
Ginger
Starts at $9.99 per month
Grammar, Style, and Punctuation Checker
Read-aloud Feature
Paraphrasing Tool
Supports More Than 40 Languages
Offers a 7-Day Money-Back Guarantee
Grammarly
Comprehensive and real-time suggestions for spelling, grammar, and punctuation.
Includes a tone detector for friendliness or formality.
Provides overall and originality score.
Built-in thesaurus and personal dictionary.
Offers correctness, clarity, engagement, and delivery reports.
Multiple integrations across platforms.
Reliable plagiarism tool.

ProWritingAid
Twenty-five detailed writing reports beyond grammar.
Improves the strength and style of your content.
Readability, sentence variety, and sentence length report.
Built-in thesaurus and personal dictionary.
Multiple integrations across platforms.
Customizable writing suggestions.
Plagiarism tool.

Ginger
Advanced spelling, grammar, and punctuation checker.
Sentence rephrase to help you express your ideas.
Translate into over 60 languages.
Built-in thesaurus and personal dictionary.
Multiple integrations across platforms.
Includes a phrase of the day.
Offers a personal trainer for more writing needs.
Best Grammar Checker Tools
I've gathered up all the most important info on every decent option so you can make an informed decision for your writing needs.
Grammarly
Grammarly is the most well-known spelling and grammar checker that performs basic proofreading on its free version. It fixes obvious spelling and grammatical errors to make your writing accurate and better sounding.
Both free and premium versions allow users to install the extension or desktop app. That means you'll receive real-time grammar corrections on different browsers, whether on Google Docs or Gmail.
You can also integrate Grammarly with MS Word through the PC application. If you want to receive real-time grammar suggestions on your phone, there's a Grammarly Keyboard for Android and iOS.
This online writing editor is perfect for students, bloggers, content publishers, and business owners who want to improve any type of content. Aside from spelling and grammar, it also detects mistakes in punctuation and capitalization in your sentence.
Another fun feature of Grammarly Free is its tone detector. It analyzes the tone and of your writing through categories of formality, friendliness, and joyfulness.
Features
Online spelling and grammar checker with a clean interface.
Provides context-specific corrections.
Offers explanations for suggestions.
Plagiarism detector for the Premium version.
Tone detector.
Multiple integrations.
Grammarly Premium
You can switch to Grammarly's premium version to experience more advanced features like clarity-focused rewrites and the built-in plagiarism checker. The premium grammar checker offers four types of corrections: correctness, clarity, engagement, and delivery.
Grammarly Premium corrects your sentences from the passive voice to an active one. If your sentence is too lengthy or complicated, it suggests alternatives to make them more concise. Another feature you can enjoy is its ability to spot repetitive words.
The online writing editor also has a plagiarism feature that scans your work against billions of published and unpublished content. You will see an originality score of your work as it highlights the duplicate content with links to the source.
Read our full Grammarly review here.
How Much Does Grammarly Cost?
Grammarly offers three types of subscriptions to those who want to try Premium.
Monthly plan: $30 per month.
Quarterly plan: $20 per month (billed as one payment of $60).
Annual plan: $12 per month (billed as one payment of $144).
ProWritingAid
ProWritingAid is easily one of the best online grammar checkers that can improve your writing skills and career as a writer. Aside from grammar and spelling mistakes, this online writing assistant corrects your writing style to enhance the quality of your work.
It works by correcting run-on sentences and passive voice detection. There's also a personal dictionary that will improve your vocabulary choices. Whether you're writing a short article or a novel, ProWritingAid will suit your needs.
The online tool integrates with Microsoft Word, Outlook, Google Docs, and other browsers. A desktop version is also available for Mac and Windows users. Users can type their work, copy and paste, or upload a word document.
Features
Comprehensive spelling and grammar check software.
Multiple integrations.
Corrects writing inconsistencies, capitalization, and style.
Over 25+ writing reports with explanations.
Plagiarism checker.
ProWritingAid Premium
If you want to use the desktop application, you need to pay for ProWritingAid Premium. This version will free you from the 500-word limit of the free web-based checker. The free version also only checks for spelling and grammar mistakes.
ProWritingAid's paid edition also offers more robust browser extensions and state-of-the-art features on the web editor. I suggest getting it if you're an academic writer, novelist, or long-form content writer.
The premium version integrates with Microsoft Word, Google Docs, and Scrivener. You don't even have to switch between windows to finish your work anymore.
What's more, ProWritingAid Premium offers more than 20 detailed reports of your work. This is the only editor checking for sticky sentences, proper transition, and narrative pacing.
How Much Does ProWritingAid Cost?
Less than you think! Many writers love ProWritingAid because of its affordability. While other writing tools offer competitive annual subscriptions, ProWritingAid has a lifetime subscription.
One year: $70.
Two years: $100.
Three years: $140.
Lifetime plan: $240 (also known as ProWritingAid Premium Plus).
Ginger
Ginger is one of the most ideal writing tools you should have if you need access to language translations. It's an English grammar checker that helps you correct your spelling, grammar, and punctuation errors.
Ginger can correct some mistakes like subject-verb disagreement, singular and plural nouns, and consecutive nouns.
This online editor also helps you fix misuse words and contextual spelling errors. For example, Ginger understands the difference between "hed" "and head."
The Ginger Software has a translator of up to 50 languages. This unique selling point of the program is accompanied by a text reader and sentence rephraser. There's also a personal dictionary that will improve the vocabulary of your piece of content.
Ginger also has a free Chrome extension. It's easy to install and catches a decent amount of errors.
Features
Contextual spelling correction.
Fixes grammar mistakes.
Corrects misused words.
Translator.
Goggle Chrome extension.
Ginger Premium
Ginger Premium does a better job at spotting errors than its free counterpart. I tried running a piece of content on Ginger Premium, and it detected two more errors than the free one. It also covers 60 languages with a dictionary and thesaurus.
If you can't navigate the application, Ginger has some tutorials that will help you understand how it works. Lok for in on the program's menu and support page.
Overall, I would recommend Ginger Premium to any English Language Learner or student. It will help make your writing sound better.
How Much Does Ginger Cost?
Ginger's pricing options are close to Grammarly Premium. But you can only choose from two plans:
Monthly plan: $29.96.
Annual plan: $89.88.
Scribens
Scibens is a free grammar check tool that can spot typographical errors, bad grammar, and style errors. It offers a wide range of corrections because of its sophisticated algorithms. In fact, this style editor is better than Microsoft Word's built-in editor.
It's one of the few online grammar checker tools that can correct British and American English grammar mistakes. It follows different English variations, offers document font sizes, and fixes proper nouns.
Scribens is an excellent tool with a color-coding system for its errors. Red highlights are for grammatical mistakes, while green ones are for verbs. If the advanced tools produce a suggestion for you, they will highlight it in yellow. The blue highlights are for typos.
Features
Free English grammar checker.
Writing and style tools.
Detects repetitions and redundancies.
Multiple extensions and API.
Synonym check.
Scribens Premium
Whereas the free version offers basic grammar and style suggestions, the paid one offers more valuable suggestions. This grammar checker tool offers browser add-ons that connect with emails, Facebook, WordPress, etc.
Scribens Premium also increases the character limit to 200,000 with backup and management of your works. It offers a cleaner interface with an ad-free page.
How Much Does Scribens Cost?
Scribens is mostly free. But if you want to try the paid version, you can get it for €9.90 per month.
Writer
Writer is a modern grammar checker that is too good to be true. The tool's clean interface, multiple features, and efficiency won't make you believe it's free. This AI-powered assistant makes your text clearer, error-free, and more understandable.
Beyond the usual grammar checks, Writer offers advanced suggestions like differentiating between "less" and "fewer." It also makes context-specific spelling suggestions, along with punctuation checks.
The software teaches you how to use the three different dashes—something that Grammarly can't do. It also gives you the option to change some words depending on the tone of your work.
Features
Free Chrome extension
Readability and language checks.
Grammar and spelling checks.
Inclusivity and plagiarism check.
API access and SSO.
200 custom terms.
Writer Premium
Writer Premium offers content scoring and a one-style guide that lets you practice consistency in writing. Other premium functionalities include email support, content security, custom terms, and API access.
How Much Does Writer Cost?
Writer costs $11 per month if you want to try the premium features. This version includes email support and more users.
LanguageTool
LanguageTool is an open-source grammar corrector tool that helps you perform an accurate grammar check. Its core features include spelling suggestions and correcting common grammar mistakes in over 20 languages.
This simple tool helps produce faster writing because of its add-ons. Feel free to edit your pieces of writing on Google Chrome and Firefox. There are also add-ons for Googe Docs, Microsoft Word, and LibreOffice on the premium version.
LanguageTool has a clean user interface. As soon as you open the web editor, you'll instantly know when to enter your text and what to click. Your mistakes will be highlighted in different colors that vary according to your error.
Aside from the English language, the other proofreading tools are compatible with Spanish, Russian, and French. There's also a personal dictionary to help you customize your vocabulary.
If you're a long-form content writer, you can only conduct checks with a character limit of 20,000. The word count limit is around 3,400 words. Subscribe to the premium version for more open access.
Features
Basic online and grammar checker.
Supports more than 25 languages.
Developer API access is available.
LanguageTool Premium
LanguageTool Premium offers unlimited access to all its features. It's a powerful tool that gives you up to 40,000 characters per check, making it ideal for fiction writers. You'll also experience a more comprehensive style checker that integrates well with other platforms.
How Much Does LanguageTool Cost?
LanguageTool also offers three options for Premium users:
Monthly subscription: $19 per month.
Quarterly subscription: $13 per month.
Annual subscription: $4.92 per month.

Jetpack
Jetpack might be unfamiliar to students, academic writers, and business writers. But this free browser plug-in is the most popular for bloggers on WordPress.
This powerful tool can give you site security, performance optimization, and other powerful tools.
If you've been a Jetpack fan for a long time, you'll enjoy the Proofreading module of this plug-in. However, version 7.3 does not include it anymore for some reason.
To enable this free writing tool, go to Jetpack, select "Settings" and "Writing." Activate the style, spelling, and grammar features to receive real-time WordPress suggestions.
Features
Color coding for writing suggestions.
Available in several languages.
Regular updates by the owners.
Completely free.
Dedicated WordPress plug-in.
How Much Does Jetpack Cost?
Jetpack is available on the WordPress directory at no cost.
Virtual Writing Tutor

Virtual Writing Tutor is a grammar checker for anyone who uses English as their second language. The writing tool is also ideal for students and teachers who want to perfect the syntax of their sentences.
One of the main benefits of Virtual Writing Tutor is that it's free of charge. You can use the field-related vocabulary of the website or the paraphrase feature. Choose from target structures, field-related vocabulary, power words & cliches, and academic and conversation.
For example, the Virtual Writing tutor reminds you not to use verbs like pay, run, play, wear, and try in academic writing. Whether you're in medicine, law, or education, the editor will help you make specific vocabulary enhancements.
The paraphrase checker helps you articulate your thoughts much better. You can also use it to avoid plagiarism. But don't forget to cite your sources still, as paraphrasing is still a form of duplicate content.
Features
Vocabulary checker tool.
Checks for cliches and power words.
Conversational and academic checker.
Word count feature.
Grammar checking feature.
How Much Does Virtual Writing Tutor Cost?
Virtual Writing Tutor is free at no cost.
Linguix
Casual writers looking for a writing tutor for spelling and grammatical mistakes will enjoy Linguix. At first, you might think it's like other standard grammar checkers. But it provides context-appropriate grammar suggestions and even corrects complex sentences.
This AI-based writing assistant offers over 2700 corrections, from grammatical to stylistic errors. You'll get additional features on the Premium version that will speed up your writing and enhance your vocabulary.
Linguix has built-in vocabulary suggestions that make writing and reading easier. If you don't know what a specific word means, enter "Look Up in Linguix," and it will give you the definition.
You also have the opportunity to access audience-specific statistics. Linguix provides information on your character limit, words, sentences, speaking time, and reading time. You'll get your average word and sentence length for the readability reports.
This program is perfect for SEO writers and marketers who want to improve the search rankings of their posts. Non-native English writers will also benefit from it as the tool improves their writing skills.
Features
Real-time writing suggestions for spelling and grammar.
Corrects common and uncommon punctuation mistakes.
Style corrections.
Detailed explanations.
Multiple platform integrations.
Performance statistics.
Linguix Paid Version
Linguix's premium version gives you more suggestions on your writing, making it as advanced as Grammarly. It also offers unlimited rewrites and word definitions every day when you need advice on your text.
But if you want other features like team management, style guides, and performance stats, try the Team plan. This version is similar to Grammarly's business plan, perfect for businesses, academic groups, and other teams who write and edit together.
How Much Does Linguix Cost?
Linguix offers two plans for checking your writing:
Monthly plan: $14.99 per month.
Annual plan: $179.88 a year (saves $127+ a year.).
Once you have chosen the length of your plan, you can purchase the service instantly. There's a 10-day no-questions-asked refund for anyone who isn't satisfied with their Linguix purchase.
WhiteSmoke
WhiteSmoke is your typical 2-in-1 grammar and spelling checker that spots basic errors like subject-verb disagreements and typographical errors. Other mistakes it can detect include double negatives, tense shifts, object clauses, comma splices, and fused sentences.
It also includes a punctuation checker tool that makes your piece of writing more precise and understandable to your readers. While it only has limited features, I believe this tool is perfect for freelance writers who write one blog post a day.
WhiteSmoke Free is simple without all the necessary explanations or English lessons. It's also the perfect tool if you don't need a plagiarism detector and readability score feature. Its only goal is to enhance your writing workflow.
You'll save more time correcting your writing as WhiteSmoke keeps a personal dictionary for you. Add unique words to this online tool so that they won't be flagged as a misspelling in the future. The editor also includes templates on the Premium version for convenience.
Features
Automated translator service.
Content templates
Spelling, grammar, and punctuation checker.
Multiple integrations on the premium version.
WhiteSmoke Paid Version
WhiteSmoke Premium claims to be the "cream of the crop" when discussing spelling and grammar software. WS Anywhere is its web-based solution, along with WS Writer. Apart from the offline version, the paid option also has a cleaner interface.
It includes a translator and a proofreader, which displays all mistakes on the screen. There are also templates for different letters. These features are designed to detect and correct errors in your text.
The templates deserve a special mention because no other grammar checker has this collection. If you want to write a business letter, cover letter, legal document, or resume, there's no need to start from scratch anymore.
WhiteSmoke Premium is also fully integrated with different browsers. Both Mac and Windows users can enjoy all of its benefits. It also performs grammar checks on MS Office and Gmail.
Suppose you want a more collaborative tool. Try the business version. It integrates with Mac, Windows, different browsers, and word processors.
How Much Does WhiteSmoke Cost?
WhiteSmoke has three versions without the option for monthly subscriptions. All offers are given every year, although you can also try the three-year subscription.
WhiteSmoke Essential starts at $5 per month (one payment of $59.95).
WhiteSmoke Premium starts at $6.66 per month (one payment of $79.95).
WhiteSmoke Business starts at $11.50 per month (one payment of $137.95).

OutWrite
OutWrite is a free grammar-checking tool that was previously named GradeProof. It uses machine learning and algorithms that will improve your text's spelling, clarity, and grammar.
The cloud-based writing solution is best for business because it has extra features that allow you to manage your sales. This tool can also handle your expenses, taxes, and electronic payments.
Founders Nick Hough and Craig Sketchley included readability reports and sentence rewrites for OutWrite. While it has a plagiarism detection feature, you can only conduct 50 checks every month.
Features
One of the best free grammar-checking tools.
Customized suggestions.
Follows the active voice.
Readability and grade level scores.
Vocabulary enhancements.
OutWrite Premium
The main features of OutWrite Pro or Premium include spelling and grammar corrections and its in-built thesaurus. You can also get suggestions for style and structural improvements.
The Online Rephraser is also available for the paid version only. Purchase this edition to make your work more original, then use the plagiarism checker afterward. OutWrite also gives priority email support to its premium users.
How Much Does OutWrite Cost?
OutWrite's Pro version is available in two plans:
Monthly subscription: $24.95 per month.
Yearly subscription: $9.95 per month.
There's also a Teams version for groups who want to communicate while working on a single text.
Monthly subscription: $14.95 per month.
Yearly subscription: $7.95 per month.

Online Correction
Online Correction is an underrated grammar checker on the internet that lets your conduct minor spelling and grammar checks. This online tool also highlights style-related errors to make you sound more eloquent in your document.
It's pretty hard to find this web editor on the internet because of the general name. But once you see this treasure, you won't regret using it. Most corrections also give you more than one option. In this care, you should use your judgment in deciding which one sounds better.
The grammar checker supports British and American English. It also has German, French, Portuguese, Russian, Italian, and other languages versions.
Online Correction has a disclaimer on their website that you shouldn't rely exclusively on their editor for professional documents. They recommend hiking a human proofreader to ensure your entire writing is spotless.
Features
Stylistic hints.
Auto-corrections.
Review suggestions for vocabulary and sentence construction.
Supports various English variations.
How Much Does Online Correction Cost?
Online Correction is free.
Paper Rater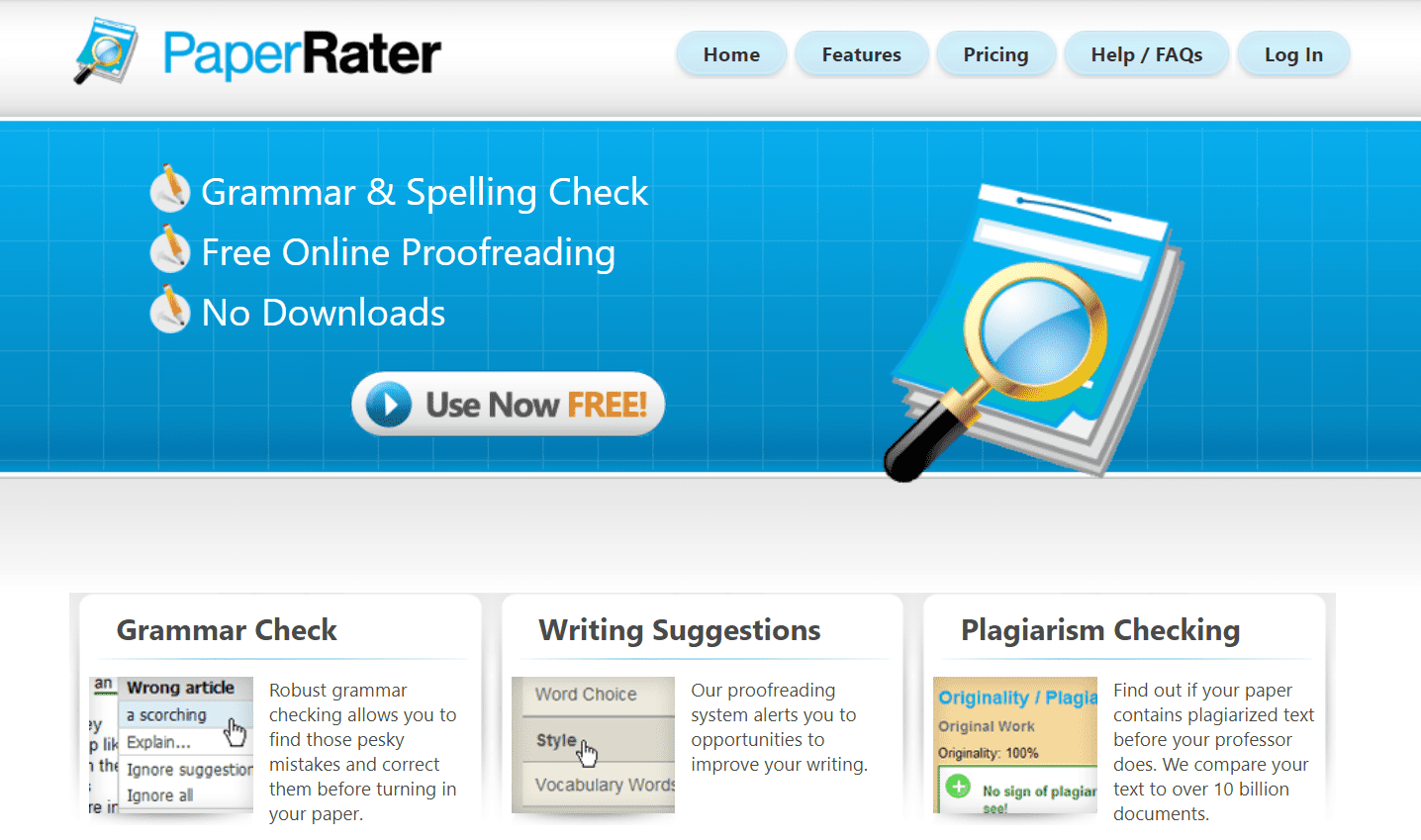 Paper Rater is an online writing assistant that offers fundamental corrections based on spelling and grammar rules. This free checker may not have any special features, but I would recommend it to anyone who experiences difficulty using commas.
But, when it comes to the other types of corrections, Paper Rater isn't the most accurate. Even its plagiarism feature cannot scan other duplicate parts of the content. This could be dangerous if you work in marketing or academe.
If your client or professor spots plagiarism in your work, you can get expelled or fired. I recommend trying other plagiarism tools like Grammarly and QueText for more accuracy.
But their customer service is commendable Paper Rater has consistent customer support every weekday from 9 AM to 5 PM. They're very responsive on email, but they do not have chat support on their website.
Features
Basic grammar and spelling checker.
Plagiarism checker.
Ad-free results.
Paper Rater Premium Plan
Some unique features you can try with Paper Rater Premium include the plagiarism checker and file upload. You can import your Doc, Docx, Txt, and RTF files on the online grammar checker for easy checking.
There are also premium-only modules and faster document processing. Most importantly, Paper Rater lets you submit 20 pages per check instead of only five pages. The maximum monthly submission is 200 instead of 50.
How Much Does Paper Rater Cost?
Paper rater Premium gives you the option to pay annually or every month.
Monthly plan: $14.95 per month.
Annual plan: $7.95 per month.

Hemingway
Hemingway could have been on the top of the list if it weren't for its limited features. This style editor is inspired by the conciseness and directness of Ernest Hemingway's literature.
Instead of focusing on the mainstream grammar corrector, Hemingway editor fixes sentence structure issues. Its writing reports focus on the overuse of verbs, adverbs, and complicated sentences. It also spots passive voice and complex phrases you need to change.
Hemingway has an online version and a desktop app. Professional writers will enjoy its readability reports, giving you your reading level, reading time, character count, etc. The creators agree that you should have an average of 10th-grade reading level.
Each report is organized into color-coded highlights on the text. If you're having difficulty with what each shade means, look at the sidebar for a guide. It will show you how many sentences are hard to read, those in passive voice, and other essential numbers.
If you want to correct basic spelling and grammar issues, I recommend getting a separate tool like Grammarly and ProWritingAid. That way, your social media posts and other content types will be perfect.
Hemingway doesn't offer plug-ins or extensions at the moment. There are no mobile apps or keyboards, but there's a desktop program for the paid version.
Features
Has an offline version.
Breaks your sentences into small portions.
Improves complicated phrases and sentences.
Readability score.
Hemingway Premium
Hemingway's paid version is for anyone who wants to try the application. It has all the features of the free version, such as the readability score, passive voice detector, and word count. But the app works more smoothly and quickly compared to the online version.
Premium Hemingway provides a fuller analysis of your work. You can save and export work so that you don't have to copy and paste any more. Hemingway can help whether you're using a text, PDF, Word, HTML, or Markdown file.
The best part for bloggers is Hemingway's ability to publish your work directly. It connects to Medium and WordPress to help you post your entry.
How Much Does Hemingway Cost?
The desktop version of Hemingway costs a one-time payment of $19.99. Students, bloggers, and all kinds of writers will be tempted to purchase it because it's cheaper than others.
Slick Write
Slick Write is a proofreading tool with the most accessible functionalities. At zero cost, you get corrections for your spelling and grammar errors. This online writing tool also fixes potential stylistic mistakes in your work.
Use it as a web editor or download the add-on for WordPress, Open Office, and Libre Office. This software is easy to use for essays, resumes, fiction, and emails.
Although it's last on the list, Slick Write offers a generous character limit for your grammar checks. You can scan a document with up to 200,000 characters. Researchers and novelists will be happy to use this tool!
Slick Write has a vocabulary variety tool that lets you select parts of the content with the least variety. Then, you can see the most common words and the score of each, helping you decide whether to reword or not.
Features
Spelling and grammar checker with Statistics.
Corrects the structure and length of your content.
Prepositional Phrase Index.
Readability Index
Completely free.
How Much Does Slick Write Cost?
Slick Write is entirely free. You won't find hidden pricing structures or free trials. Enjoy all features of the program without restriction!
What is the Most Accurate Grammar Checker?
If you're looking for a grammar checker with the most accurate suggestions, Grammarly is a topnotcher.
The accuracy of your corrections should include typographical, spelling, and grammar errors. Grammarly captures all these mistakes and more. It can even spot flaws in your writing style, including the passive voice and repetitive words.
The online editor uses the best artificial intelligence and machine learning technology to improve your writing skills in the best way. Other mistakes it can detect include offensive language, context-specific misspellings, lengthy sentences, and improper tone.
For example, tools like Scribens and Slick Write won't always know the difference between "your" and "you're" or "head" and "hed." But Grammarly is smart enough to know it.
Of course, nothing beats the accuracy of a human proofreader. These professionals are rational enough to know if "really" is a filler word or an essential part of the sentence.
When it comes to plagiarism detection, Grammarly is also the clear winner. The premium feature scans your work against billions of published and unpublished posts to look for duplicate content. It detects some paraphrased statements and leaves out false positives.
Best Grammar Checker for Every Feature
Although I've already shared the top grammar checkers with you, the best tools may still depend on every feature. Some online editors excel in grammar and punctuation checks, while others are loved because of their affordability.
Best for Grammar and Punctuation Check
Two online writing tools come to mind when speaking of grammar and punctuation checks. These are ProWritingAid and Grammarly. These two tools have the highest numbers of grammatical and punctuation errors they can spot in your writing.
If you're a business owner, SEO marketer, or copywriter, Grammarly is more suitable. Its grammar checks specialize in clarity and conciseness, although they can perform basic spelling checks.
Grammarly makes your work as readable, unique, and accurate as possible. You'll publish your work without the passive voice, subject-verb disagreement, repetitive words, and fillers. It also teaches you how to use the oxford comma, hyphen, semicolon, etc.
If you're a novelist, fiction writer, or long-form writer, ProWritingAid is an excellent option. This online tool corrects syntax errors comprehensively while offering reports for creative writers.
Make the most out of pacing check, alliteration check, and dialogue tags so you can build a stronger narrative. You can also integrate it with Scrivener if you write long paragraphs.
Best Free Grammar Checker
Just because it's free doesn't mean it should have limited features. Students and casual writers on a budget still deserve an excellent writing tool like Hemingway. The Hemingway App may not correct your spelling and grammar errors, but it helps you with readability.
Even bloggers will love Hemingway's simple yet effective functionalities for writing style. The free application highlights complex and lengthy sentences which you should split. It also spots statements with splitting logic, long words, and weak phrases.
These are common mistakes you would find on a high school student's paper. So, if you want to impress your teacher, Hemingway is accessible. You'll even get a glimpse of your Flesch Kincaid Grade Level.
Hemingway Free has all the writing tools you need. But you can buy the desktop application for a more convenient experience. This version lets you upload files and publish directly to WordPress or Medium.
Best for iOS
Grammarly Keyboard and CorrectMe are your top choices for the iOS application. These programs are available on the app store for free but with limits.
Grammarly Keyboard offers the same advanced corrections on the web editor and browser extension. This all-around application is installed as a keyboard to give you real-time suggestions.
Enable the app on your keyboard settings once you're done downloading it. Try switching to Facebook, Gmail, or any app, and it will highlight the errors you type!
CorrectMe isn't part of the list, but you should consider this iOS application for fun and creative projects. The grammar checker helps you sound wittier with its options for flavorful words. It will instantly turn your basic message into a meaningful and artistic one.
The all-in-one writing tool has a thesaurus and spell checker to correct your overall text. Take advantage of the built-in synonym feature to look for word alternatives.
CorrectMe is only available on iOS devices. It's fast, simple, and does a great job of giving you the best words. However, I suggest you get the Pro version to make the most out of the app.
Best for Android
Android users can download Grammarly on the Play Store for a grammar, spelling, and punctuation checker for their text messages.
You can use almost all the features of the desktop version, or Word and Chrome extensions, with the exception of the plagiarism checker. Simply add the Grammarly keyboard in your device's settings and the program will automatically provide spelling, grammar, and punctuation corrections when using your phone.
Every Writer Needs an Online Grammar Checker
Students, novelists, bloggers, and academic writers will benefit from online grammar checkers. They notice overlooked typos, improve clarity, and make your tone more consistent.
I hope this long list of the best online grammar checkers for 2022 helped you decide what to get for your PC, Mac, or mobile device. Grammarly, ProWritingAid, and Ginger are your top three choices to consider as desktop apps.
Try the free and premium versions now to enhance your writing workflow!