Many spelling and grammar checkers are available for free on the internet. Others are priced below $10, but Grammarly costs a whopping $30 per month when you go with the month-to-month plan.
Why is Grammarly so expensive? What makes it better than other online writing tools?
I'll show you the specifics of why Grammarly Premium is costly. Keep reading to know its best features, pros and cons, and why I think it's the best grammar checker.
Is it Worth Paying for Grammarly?
Grammarly is worth its price because it can spot most writing errors, from mechanical issues to stylistic concerns. At $30 per month, the Premium version can fix your typos, passive voice, plagiarism, inappropriate tone, and more. Its payment options include:
Monthly plan: $30 per month.
Quarterly plan: $60 every three months ($20/month).
Annual plan: $144 per year ($12/month).
I'd even go as far as saying you'll get more than your money's worth with this program. No other grammar checker can give you comprehensive spelling, grammar, and plagiarism checks, I can promise you that. Take advantage of the unlimited checks, especially if you write blog posts, stories, and homework daily.
Best Features of Grammarly
If you want to know why Grammarly costs an arm and leg, here's a description of its best features.
Contextual Spelling and Grammar Tool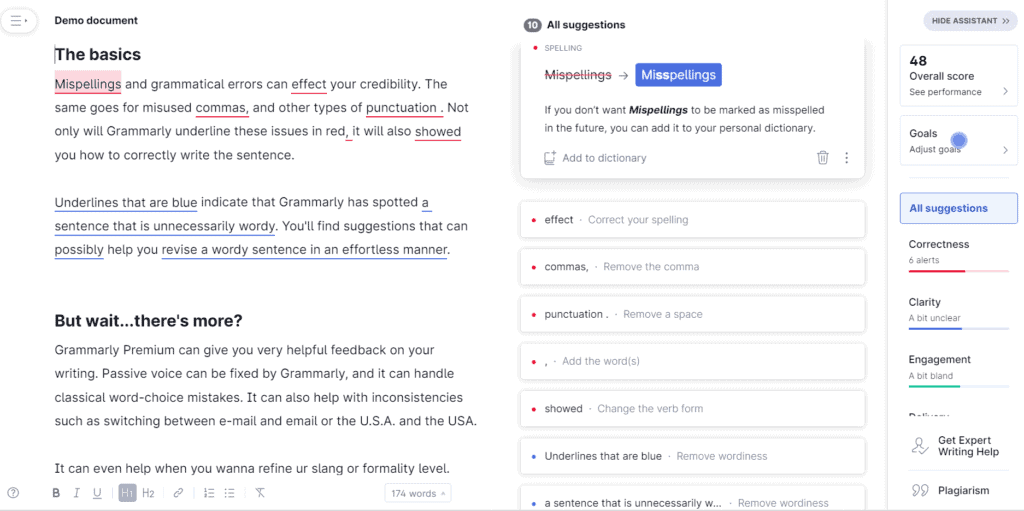 The free and premium versions can give you access to a spell and grammar checker you can rely on. This application not only corrects common spelling mistakes like any other spell checker. It also catches confusing words like "see" vs. "sea" or "hey" vs. "hay."
This is so important for me as a fiction writer because dialogue often gets overlooked with other programs. But Grammarly catches everything.
With the Free version, you can scan your writing for several writing mistakes. Examples include improper preposition use, subject-verb disagreement, and wrong verb placements. You will also receive explanations for these suggestions to avoid the same error in the future.
Bid farewell to punctuation errors. If you don't know where to put a comma or the difference between a dash and a hyphen, Grammarly will help. Apostrophes, periods, semicolons, colons, and numberings are also part of the grammar checker.
Using Grammarly Premium, the grammar tool will make advanced suggestions on your vocabulary, run-on sentences, tone, and more. The tool also points out monotonous passages that don't show variety. Grammarly can detect all these mistakes through artificial intelligence.
Use it for all types of content, whether academic articles or blog posts.
Writing Style and Tone Detection
Before running your text on the grammar and spelling check tool, it will ask you to set your goals. Set your work's intent, audience, and domain so that Grammarly will display the grammar issues according to them.
It has a tone detector that shows you how your text sounds to readers. It may display words like "confident," "joyful," and "optimistic" with a scale to measure them.
Aside from spotting grammar errors, Grammarly's premium version will also look for inappropriate writing styles. Using narrative, persuasive, descriptive, and expository sentences, you will sound more fluent and native in your document.
It also ensures that your content piece demonstrates respect, confidence, and inclusiveness. One of its advanced features is its ability to remove uncertain words like "just." It also eliminates offensive words and phrases. Plus, your content is always safe with them.
Vocabulary Enhancement
Aside from critical grammar checking, Grammarly also gives suggestions for your word choice. One of the major features that users love about Grammarly is its vocabulary enhancement.
If you keep using "amazing" several times in your selection, Grammarly will flag these words and suggest synonyms like "fantastic" or "excellent."
Grammarly Premium also ensures these synonym suggestions are contextual. For example, if you need an alternative for "bad," the app will check if you mean "substandard" or "unethical." It's like a more robust version of other grammar checkers' thesaurus.
The vocabulary suggestions also include stronger adjectives instead of using "very" or "so." For instance, instead of saying "very bad," Grammarly will suggest "terrible."
Personal Dictionary
Another significant feature of Grammarly is its personal dictionary. If you're tired of other grammar checkers flagging new words or proper nouns as misspellings, you need Grammarly's personal dictionary.
Add new words to your custom dictionary, whether a unique name, a made-up word from your fiction writing, or slang. That way, the online writing assistant won't keep detecting it as a misspelling. It also won't affect your overall writing score.
Plagiarism Detector
Grammarly can spot plagiarism better than other plagiarism checkers. This feature catches duplicate content from billions of websites, journal articles, and offline publications.
After pasting your content or uploading a document, click on the "Plagiarism" button at the bottom right of the site. Grammarly will highlight plagiarized parts of your content while providing the links to the sources.
You may click on the URL of each source to evaluate if it's accidental plagiarism or a false positive. Fortunately, Grammarly rarely spots false positives or matched text with different topics.
A plagiarism score is visible on the upper right corner of the screen to give you an overview of your originality. Feel free to remove the plagiarized parts, edit them, or cite your source.
Grammarly Business
Grammarly also has a business version for companies and organizations who want to work in teams. One impressive feature of Grammarly Business is its style guide, which helps you observe consistent writing style to maintain your branding.
The style guide contains a customized library of words and rules that will help you avoid confusing jargon and acronyms. Once you develop your brand voice, Grammarly gives you a tone profile to help users strike the right note.
Other Grammarly Business features include snippets, analytics, and priority email support.
Pros and Cons of Grammarly
Despite being the best grammar checker, Grammarly is still imperfect. But premium users can all agree that the benefits still outweigh the drawbacks.
Pro: Most Accurate Grammar Checker
Grammarly's precise suggestions can be attributed to its genre-specific recommendations and custom dictionary. If you make fun educational content for kids, Grammarly won't ask you to sound more formal in your tone.
Some spell checkers won't spot the mistake in "Roses are my favorite flour," but Grammarly will tell you that it's "flower." The custom dictionary also makes the editor accurate because it won't spot your word entries as misspellings.
Pro: Real-Time Grammar Checking
Grammarly can spot critical grammar issues in real time. If you have the desktop app, mobile keyboard, or browser extension, the writing assistant will correct it as you type.
It instantly underlines your errors, so you no longer have to switch apps or click on the menu bar for grammar checking. Hover over the spelling or grammar error, and you will see Grammarly's suggestion. You can click on the suggestion to correct your writing.
Pro: Easy to Use
You don't need to be tech-savvy to know how to use this grammar-checking software. Believe me, I'm tech-illiterate and I figured it out in no time. Grammarly's interface is straightforward and clean. The options for writing or uploading a document are visible, and you will quickly navigate the suggestions.
Its design is a more modern version of MS Word and Google Docs spell checker. Grammarly will underline all incorrect spellings, grammar, and style on your work. Then, it will show you what word to switch it with and why.
Pro: Available on Different Platforms and Devices
Only Grammarly offers integrations with other applications. You can correct your spelling and grammar using browser extensions and plugins in real-time. Enable it to receive corrections in Gmail, Google Docs, Word, and Outlook.
You can download the desktop application for Mac and Windows if you need corrections for whatever you're typing on Skype, Discord, Slack, etc. If you work on your mobile phone, check out Grammarly Keyboard for Android and iOS.
Use Grammarly's web editor if you don't want to download the application or extension. You can write in the space, copy and paste content, or upload a written document.
Con: Expensive
Grammarly's pricing is the only thing that turns off many potential customers. But that's what this Grammarly Premium review is for, right? Its premium features are worth every penny, especially the genre-specific suggestions.
If you're a student on a budget, you might consider the monthly plan, so your first payment isn't too big. Or you can save up for the annual plan to save money in the long run.
Con: Limited Free Version
The free version of Grammarly only corrects your spelling and grammar. It won't introduce tone detection, sentence rewrites, and vocabulary enhancements. What makes it worse is the lack of a free trial of the premium version.
You need to subscribe to the premium version right away for advanced checks. But I believe you won't regret that choice.
Is Grammarly the Best Grammar Checker?
Personally, Grammarly is the best grammar checker on the market because it gives the most accurate results. You avoid the risks of plagiarism, spelling and grammar errors, and style concerns when you run your work on Grammarly.
I also think it's the best writing tool out there because it's suitable for all writers. If you work at a content agency for bloggers, Grammarly can help you sound more fluent and engaging to your readers. Academic writers can also benefit from the plagiarism checker for credibility.
It isn't like other grammar checkers catering only to one type of writer. For example, EasyBib is specifically designed for researchers and students. SEMrush is only for online content writers who need help with SEO. Grammarly is for everyone!
Verdict: Is Grammarly Worth It?
This Grammarly Review has shown you how its accuracy and versatility make it worth the purchase. The writing tool offers a service for all types of writers, thanks to its customizable suggestions, contextual spelling checks, and plagiarism checker.
Subscribe to Grammarly Premium to receive advanced checks for your spelling and grammar. But if you're only looking for general writing errors, then the free version will suffice.